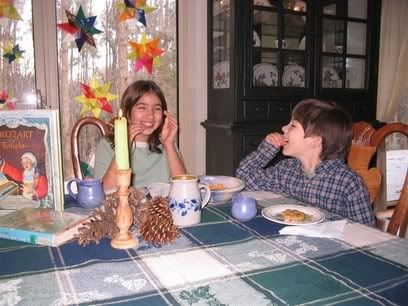 Here's a snapshot of my kids enjoying teatime (hot chocolate actually) and an interesting picture book about Mozart. We chose this book in honor of his birthday this week. It's called Mozart Tonight, by Julie Downing.
As a former "chapter book snob," I have recently become an admirer of picture books, too. The writing is so essential and often the artwork is simply gorgeous. They make excellent narration inspirational especially for my visual learner.
Julie, I want to thank you very much for the articles on The Bravewriter Lifestyle pages of your website. These have been just the spark I've needed to keep up my enthusiasm for a relaxed CM education with my children. We are learning all the time, sharing what's good and beautiful and true. Together.
I know we'll look back so fondly someday…. thank you for helping moms like me to enjoy every moment.
With a Grateful & Joyful Heart,
Brave Mom in Chapel Hill, NC
—

Thanks for sharing your family photo with us. Notice the essentials: candle, pinecone centerpiece, the tablecloth, the ceramic crockery and even the yummy cookie on the plate!
If you'd like your family teatime photo to appear on the Brave Writer blog on a Tuesday, please send it to me as an attachment in an email.
—julie
Teatime can be for all kinds of art enrichment but you will most often hear us refer to them as Poetry Teatimes. You can click the link to read more or watch Julie on Katch talk about some of her favorite teatime elements.