Tuesday Teatime: A Japanese Tea
Hi Julie!
"Surely we can pull off a Japanese Tea Time since we live in Japan!" I thought, only a little skeptically. We hadn't had Tea Time in several years, but the international theme inspired me to do what had been on my wish list for way too long.
The kids really got into it, putting out Japanese decorations, eating osembei (rice cakes), and wearing yukata (summer kimono). Of course we read some haiku by Matsuo Basho, too. The green tea wasn't a big hit this time. Not sweet enough!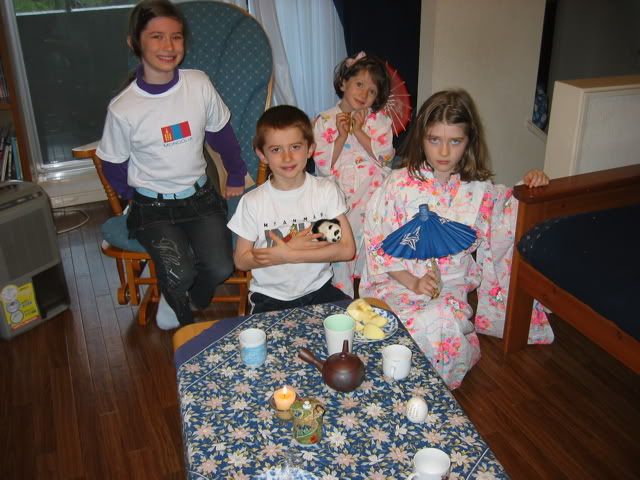 A couple of things were quite serendipitous. Since we were enjoying the fall leaves, we also read a poem about fall leaves by Robert Frost. It was so interesting to contrast the two poets and their use of nature and their form of poetry. I would never have planned it, but it was marvelous. Likewise, I didn't plan the content of our read aloud from Story of the World, but it was, appropriately, on the Meiji Restoration in Japan.
It was a great way to revive our Tea Times. Thanks for encouraging us to have it. Doomo arigato!
Brave Mom in Japan
One Response to "Tuesday Teatime: A Japanese Tea"