Tuesday Teatime: A Shakespeare Tea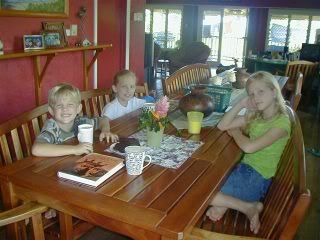 We had a Shakespeare teatime this week as someone suggested recently on the 'Scratch Pad.' I have a copy of Shakespeare Stories by Garfield that I'd been wanting to bring out, but hadn't thought of a good time to read from it before this. I'm not sure why! Since the stories are not short, I knew it would be a longer session than usual and we had our tea while our two-year-old was napping. He usually expects to be part of our weekly teatime.
We read "Romeo and Juliet" since the children had treated their parents to an extremely entertaining, self-written play of the classic a while back, made all the more enjoyable by the fact that they didn't really know the plot. For example, our 10 year old daughter called, "Romeo, Romeo, wherefore art thou, Romeo?" and our seven year old son popped up and said, "Right here!"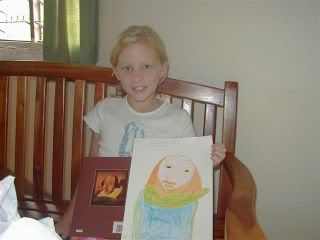 Well, now they know the story and very much enjoyed Garfield's telling of it. The kids began to draw pictures about half way through the reading, and I was pleasantly surprised by the portrait that my 10 year old did of the picture of Shakespeare from the back cover of the book I was reading from. In her limited view of it she had assumed he had a beard where a shadow really was, but except for that it's a pretty good likeness. My 7 year old son loved all of the sword fighting, too.
We live in Fiji (where morning teatime is still observed in the business community) so I really should have sent in photos of an outside scene with palm trees in view. You can see in the centerpiece that my girls made pink ginger and gold bird of paradise from our front yard, however. Oh yeah, and laundry hanging on the back porch. Such is life!
Thanks, Julie, for continuing to inspire us that an hour of fun like this is very much 'school'!
Heather