Teatime: with boys!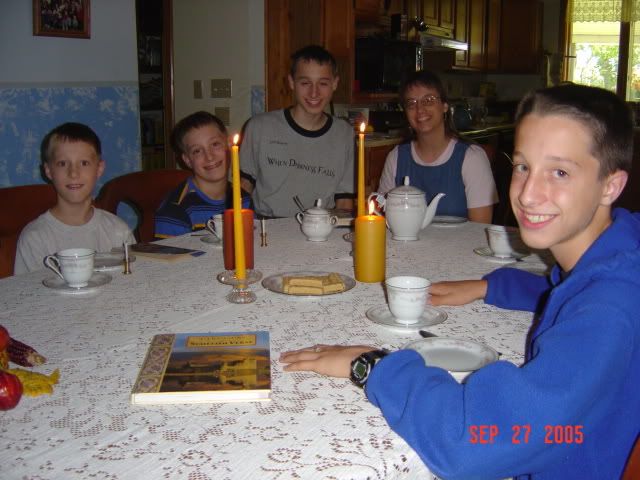 Good evening Julie,
We had our first ever Tuesday Tea Time this afternoon. All in all I'd
call it a success, and I must confess to being a bit surprised. Since I
have four sons and each of them has picked up from my wonderful husband
that tea is nasty stuff, I wasn't at all sure. When you wanted themed
teas, it made me think of a Scottish tea time. We had been there last
year and it was definately one of the highlights of our family's life.
So we put bagpipe music on, had some shortbread, lit the candles, used
the china that is only used for special times, and most of us picked a
poem about Scotland to share. Then we continued our read aloud of a
George MacDonald story. My 16 year old engineer-type was definately the
least impressed… disliked the tea and poetry, didn't mind the candles,
but at least the shortbread and read-aloud were good! On the other hand,
the 8 year old wished we could do Tea Time every day and can't wait until
next Tuesday. And three of the boys actually decided tea, with a bit of
sugar, isn't bad at all! So, thank you Julie for helping me see a way to
introduce these boys to poetry and create a special time together.
Brave Mom of Boys